ChiroSport Specialists of Dallas is please to partner with the Ryan Palmer Foundation and the Ben and Heather Crane Foundation. Read what these foundations are all about and learn how you can get involved to make a difference.
---
Ben Crane Foundation
The Ben and Heather Crane Foundation was established to support organizations that are providing help to at-risk children as well as groups that are showing the love of Christ as they carry out their missions to do good work in an effort to bless others. For the past 5 years, Ben and Heather have hosted their pro am, Day with the Pros, which has raised over $1.5 million to support two organizations, H.O.P.E. Farm and Love 146.
Love 146 works toward the abolition of child sex slavery and exploitation thorough prevention and aftercare solutions. Love 146 has opened its first faith-based safe home that provides restoration and healing to young girls who have been rescued from the sex trade and they are currently developing training programs in the U.S. so that people can adequately address the issue domestically. Get Involved »
H.O.P.E Farm, located in Ft. Worth, is an after school program for boys without fathers. Their objective is to try and break the cycle of fear and violence by giving boys who enter the program an opportunity to experience the benefits of a Christian environment with respect, love, and mutual concern. Get Involved »
Ben and Heather are very passionate about their event and the call to help those in need. They are honored to use their platform to expose and support two very special charities
Ryan Palmer Foundation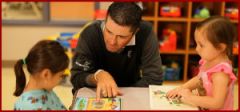 From junior golf to the PGA Tour, Ryan Palmer has been a winner at every level. His success in 2003 on the Nationwide tour earned him his PGA Tour card. We expect him to continue to win in life and in his professional golf career. So many people and most importantly children look up to him as a great player, but more as a great person, one who has always had a reputation of good sportsmanship. Ryan is a role model. He has a heart for all people, but a special heart for children. When we decided to start the Ryan Palmer Foundation, his initial words were, "All I want from the foundation is to give back and to create opportunities for young people, like I have had throughout all my life. It's my opportunity to give back to children."
The Ryan Palmer Foundation was founded on January 9, 2004 and is a 501(c)(3) Texas non-profit corporation. We are excited that we can now begin implementing the foundation's activities: youth golf clinics, special community golf programs, scholarship programs, educational programs, and benevolence to local youth and organizations in need. Get Involved »